Do you live in Santa Rosa or the surrounding areas? Come join the fun with us and learn how to stitch in plastic canvas. We will be meeting Saturday mornings from 10 am - 1 pm. When you sign up for the classes you will be invited to join our Yahoo online support group where you will be given choices of projects to choose from each week as well as ongoing support and sharing. You must vote by Friday prior to each class. Project will be determined by "majority rules." Below are some of our most recent projects.
Limit is 5 students per class. Cost of class is $15. Refund eligible if canceled within 48 hours of the class scheduled time. It is not necessary for you to bring any stitching materials, these will be made available for you to use during the class. If project is not completed during class time, another meeting time will be set up for you to come back and receive additional instruction at no additional charge. Online support available at no additional charge through Santa Rosa Plastic Canvas Group.
Classes are held in smoke-free, perfume-free environment. No children are allowed at adult classes. There are children-only classes available for children over 9 years old. For more information, call (707) 544-4308.
Upcoming classes: 03/26/11 & 04/02/11 10 am - 1 pm.
$15.00
Learn to Sew/Machine Embroidery Classes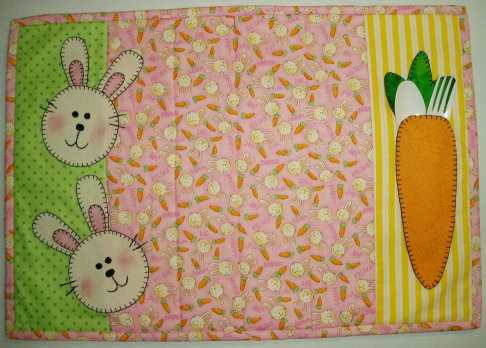 Flower Pot Pincushion & Easter Placemat
Limit is 2 students per class. Cost of class is $25. First two projects shown above. You will learn how to place a pattern on material and then cut out. You will learn to stitch project to completion. You will then take project home with you. Materials to complete project included. Patterns are purchased from Sew Simple Patterns at discounted price.
Upcoming classes: 04/30/11 & 05/07/11 10 am - 1 pm.
$25.00